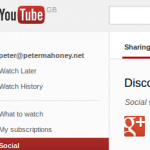 And they're not all watching Justin Bieber videos.
Youtube is often overlooked as a social network for business, when in fact it's one of the easiest ways to build your authority in your industry.
If you only post a two minute video clip a week, it's still faster than blogging, and helps sell you as a person, your brand benefits, your exposure goes way up, and it's a great way to build your audience.
And with the comments sections and embedding links in videos back to your site, it has the social interaction aspect that you need to be communicating with your clients.
The other big point of difference? Most people have Twitter and Facebook Pages. They're still incredibly valuable, but Youtube videos are a simple way to set yourself apart.