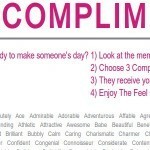 Here's a welcome change from all the doom and gloom we see around us.
I was recently tasked with creating The Compliment Site, a place where random strangers can compliment each other to try and brighten someone's day.
It's the simplicity of it I like. A simple idea, and simple execution. The only images used throughout the entire site are user's profile pictures, and social sharing icons for Facebook and Twitter. The rest is all just code, even the header. It makes for a very fast site, that if marketed properly, could do very well.
It hasn't been launched yet, but it is there is you'd like to try something a little different.