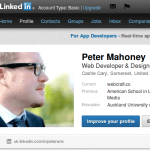 I'm the first to admit, I struggled with LinkedIn at first. Not that it's hard to use or anything, in fact it's incredibly simple. But I struggled to find its place in my social-media-life.
I've had my profile up there for years, and I'd fleshed it out (past jobs, current responsibilities, photo, all the things that seemed important) but I wasn't interacting with anyone.
All my colleagues and ex-colleagues were on Facebook. LinkedIn let me post messages and share other people's updates, but so much less then my other social profiles.
Then I started using it regularly; I just made sure I logged in a couple of times a week. Recommended a couple of people. Wrote to someone I could only find on LinkedIn that I hadn't spoken to for a while.
Before I knew it I became a regular. And the more I used it, the more people found me. Job offers, professional queries, community discussions, they've all become an important part of what I do.
I've found even people I do communicate with elsewhere interact differently on LinkedIn. We act in the way we want to present ourselves to our workmates, bosses and clients.
The first is to post directly to it. In this case you're just giving away your content for free to a massive company. They'll get the SEO authority for that post, not you. And while you might plan to have a link to your site on the bottom of those posts you give them, links coming out of their website are marked as nofollow, which means they don't get used by Google (or other major search engines) as a way of passing on authority.
Oh and of course some folks repost, posting the content on the social network and their own site. Which simply leads to duplicate content issues.
The second method is to just post a link to the article as it appears on your site. So you're sharing a link rather than the text. The trouble again is that those links are nofollow, so you won't get any SEO juice for it.
But social networks are generally quite protective of their own SEO authority, they're not in the business of passing that on to anyone who posts on their platforms. SO I prefer that second option, just link back to your own site. Forget about social networks for SEO. But it's still good to interact with people on them, and hopefully those users might follow a link to your own site – then they're your audience.
One really positive thing I've noticed about LinkedIn though is it's easy to accidentally give them your SEO authority. SEO authority is a way of referring to the search engine kudos, or points you might have. There are traditionally two ways most people publish content on LinkedIn.
This is the advantage of LinkedIn. Not only can you build your online community, but you can be sure that your interactions on it are going to be framed in a professional manner, and of a higher quality. To this day I've not seen a single photo of a kitten on LinkedIn.
Please don't be the first.