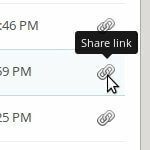 Just a very quick tip. Dropbox is a useful tool for sharing large files, I use it with my client's quite a bit.
One thing I do not like is the length of the URL it gives you to share, they can be longer than the average length of a line of email text, spaces in file names become %20, and honestly long URL links are just plain ugly.
Fortunately, Dropbox creates shortened URLs for you, they just don't show you where they are! Basically if you opt to share the file link via Twitter, you'll see the short version, which you can email or share in other ways too.
Just to make it really clear, here's a short video I made showing how it's done.
Helpful tip? Please donate: 1JbTZppFMnK6XW4cw2f1iYMvofJaUy7cjz