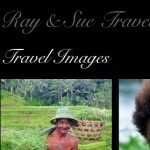 Ray from travelandwildlifephotography.com got in touch with me last week because his website was letting him (and his wife, they're an extremely talented photography duo) down.
The home page was taking over 8 seconds to load and display. It's a common problem with WordPress sites that they can load really slowly, especially in the photography sector where large high quality images are so important. Naturally, this was costing them visitors and SEO ranking. Who sits for 8 seconds while a website loads? Anything over 4 is considered a bit off, and then second by second it begins to become unforgivable.
It's pretty easy to see that a slow site would be a problem for visitors – but how fast your site loads is also one of Google's key metrics when looking at your search engine optimisation and deciding where to rank your site.
As a WordPress SEO expert one of the first things I point out to people is their website's loading time. Making that faster is often a very quick win – it doesn't take terribly long to make a site faster but the payoff for SEO and your clients is incredible.
So I got to work and I'm very pleased to say that with some server tweaks, some coding changes and some down and dirty image work, their site now loads in less than 2 seconds. And has a Google Page Speed rank of "A" (93%!). And that last point is important because, as I keep going on about, Google takes loading time into account when ranking your site.
That's an improvement over over 75%! 40% is the average speed improvement I'm able to achieve with a WordPress website so everything I get higher than that I'm extra happy with myself.
Fancy some help speeding up your site? It's something I can offer as an add-on to my WordPress SEO overhauls and SEO campaigns. Just get in touch and ask me how.