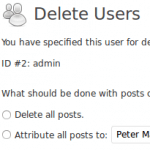 Here are instructions for securing your WordPress website—to remove the "admin" user which is currently the target of botnet hacker attacks.
(More information on the attack is below the video).
Basically a large network of "zombie", or "botnet" computers is being used to find WordPress sites, and then try thousands of passwords to gain access as the "admin" user. Now, since the default setting for all WordPress sites is to have an "admin" user, this attack is going to affect a lot of people.
WordPress has been attacked by a botnet of "tens of thousands" of individual computers since last week, according to server hosters Cloudflare and Hostgator.

The botnet targets WordPress users with the username "admin", trying thousands of possible passwords.