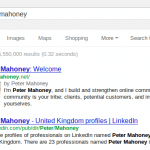 I'm more than a little happy about this.
I've beaten out the phone and Linkedin directories!
A Google UK search for "Peter Mahoney" returns my website as the top result.
Hitting number one is pretty phenomenal, especially when you consider that in the tech world there are a couple of CEO's of major international companies sharing my name.
Plus this means when people ask me for my URL, I can show off my SEO skills by simply saying, "Google me".
So what's next? I want to see my Twitter feed at number two, that's what.